I took some pictures this morning of the bike I threw together over the weekend from parts in the garage.  The Frame is an older Trek 400 sport bike converted to 650b.  By using the smaller rim I could run a fatter cushier tire, and also bring the front end geometry into a range that will handle well with front biased loads.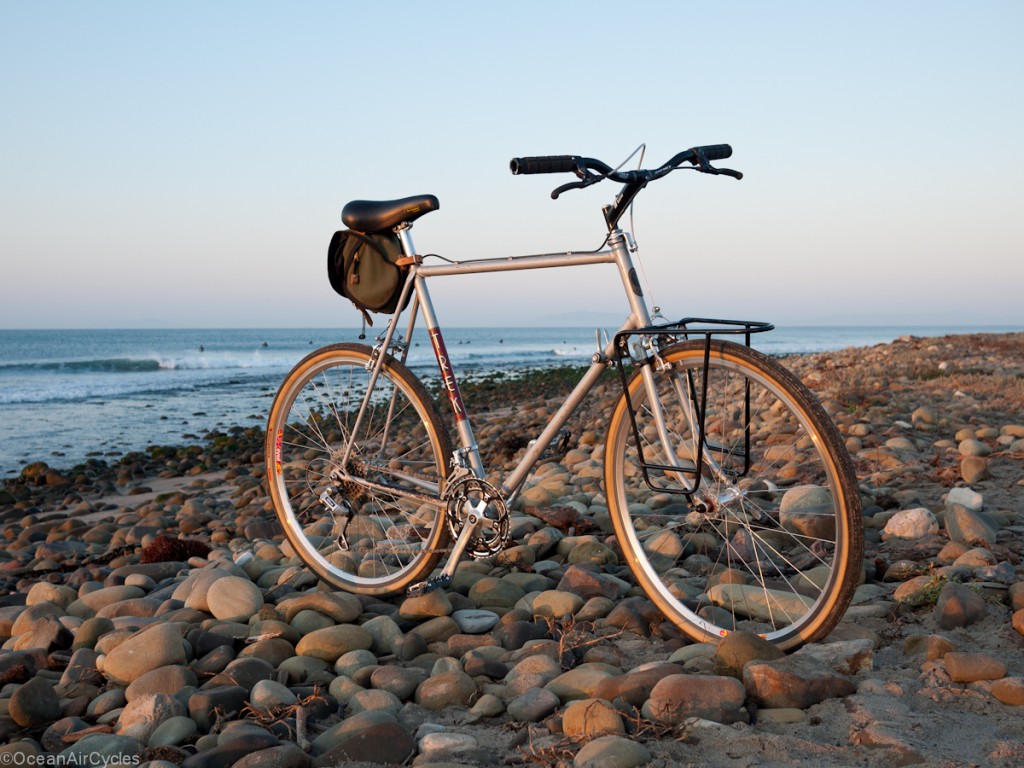 I have a few Trek frames in my garage that I bought off of Craig's List and they have been hanging from the ceiling for almost 2 years now.  All three have their dents, scratches and other marks of age.  I decided it was high time to do something about it.  The fringe benefit is the fun in building a bike up instead of stripping one down to sell.  With a little planning and 30 minutes here and there I was able to put this together from parts in my bins of spares.
About a month ago I picked up a pair of NOS Weinmann 750 brakes, and they pushed me to get this done.  The 750 calipers have just enough reach to get to the 650b rims.  There is plenty of room for the 584×37 Col De La Vie tires, and fenders are in the works.  The wheels are decidedly not S&S, Phils laced to Velocity Dyads, but they belong to my wife and i am "borrowing" them.  I used an old MTB stem, bars and levers that span 20 years of age.  The shifting is handled by a Shimano Deore DX in the rear, Suntour XC high normal front and NOS 105 clamp on DT shifters.  The front rack is the Bruce Gordon (made in Oregon) rack that used to live on my Rawland.  The saddle is an Avocet Touring in pretty good shape.   All of the cables and housings are from my recycle bin.
Initial rides have been unloaded and it handles fantastic.  This will become my around town bike for errands and such.  There are only a few things I hope to change.  The handlebars will be switched out with some Wald 867 bars that are on the way.  I may do something about the saddle, but i tis OK for shortish trips.  I have some newer brake shoes to put on, but the old black blocks have been slowing things down acceptably.  As for fenders, I have an older set of the VO zeppelins that were bought on clearance 3 years ago, and will be re-shaped to work here.
Yes, new bikes are fun, but sometimes the best bike is what you have.  At least for the moment.
Remember – Reduce – Reuse – Recycle