I have had my Patagonia Men's Houdini® for a little over 6 months now and am confident that it lives up to the claims and great reviews on the web.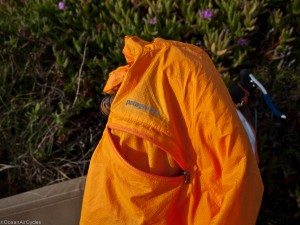 The Houdini is a super light weight, breathable, wind resistant shell with Patagonia's Deluge® DWR (durable water repellent) finish.  It will keep you dry in anything less than a solid rain.  Here on the southern California coast we commonly get mist and heavy fog.  The jacket performed flawlessly in this weather, keeping me from dusting off the heavier rain shells for my morning rides.  weighing in on the kitchen scale at 125g confirms that my XL Houdini is indeed a flyweight.  Whether on my back or on the bike the load is barely noticeable.
The chest pocket serves double duty as a stuff sack. 
Stuffed size is a little bigger than my fist when fully compressed.  The compact and cleanly packed size means that I keep the jacket with me.  It literally lives in the frame bag on my Roadeo,  and has been my bail out layer more than once this season.  Our weather has been a bit unpredictable this year.  Many mornings I leave when it is dry, only to have rain and mist set in later in the ride. 
The strongest use of the jacket is as a windshell, complementing a solid layering system.  I will wear it from the start if the temps ate below 45deg F.  It wards off the initial chill why getting warmed up.  The full zip is perfect for controlled ventilation if you find yourself getting hot midway up a climb.  When the temps are below 40deg I can wear the jacket the whole ride without getting clammy inside.  Often the morning temps will be much colder in the canyons, with swings as wide as 15 degrees lower than the higher ground. 
There are only two things I would change.  The hood is great when really cold, below 30, but is a wind catcher the rest of the time.  I ball mine up and tie it off with the adjustment cord.  A stuff pocket would be nicer.  Also, the XL fits me a little big.  While perfect for hiking or walking, it flaps a bit in the wind.  This is not bad enough for me to exchange it, but if I buy a second it will be a large. 
Added bonuses, online shipping is free since the price tag is over $75, this season offers orange and green for higher visibility and as always the Iron Clad guarantee ensures satisfaction.  Mine was a gift from my wife last summer, and has become and integral part of my gear since then, and yes I like it enough that I think about buying a backup.