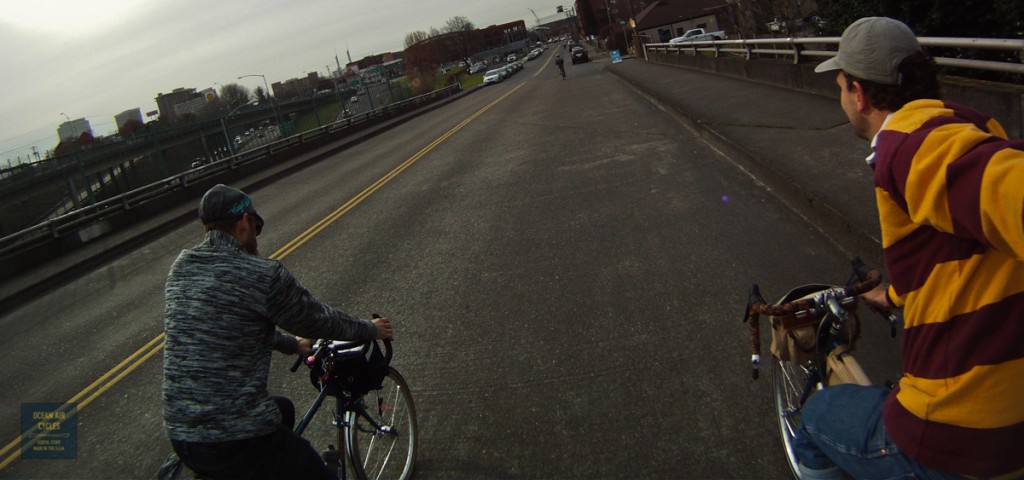 After the trip through the Seattle Public Library it was a quick haul back south to invade Portland with the Ramblers.  It was a Wednesday, and naturally we started the morning with some coffee brewed outside under the St Johns bridge.

There was a bit of blue sky here and there, and at least it was dry.  I know I will be visiting and passing through the northwest often in the coming years, but will admit I am a sun lover and will be hard pressed to give up California as home.

We were there for 2 or 3 non stop days and nights, and honestly it is all blending together at this point.  I was able to get a feel for the bike culture there in town, meet a bunch of great people, drink way too much coffee and enjoy a ton of great food.
We spent a lot of time at Velo Cult.  It is taking a bit of time, but Sky has built what I believe will become the hub of bicycle culture in the town.  It is more than a shop or a bar, it is a community space, enveloped on all sides by bikes.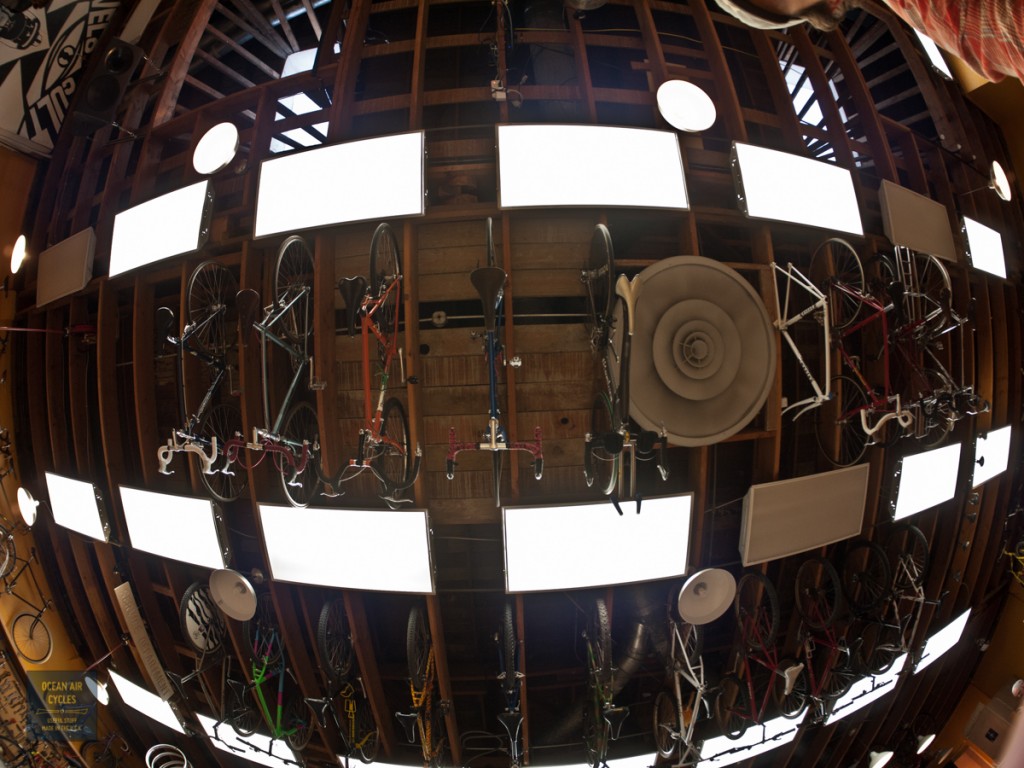 The main event for us was getting the back end of the shop for one night to show off a row of complete Ramblers.  We had some friends come by, met some friends of friends, some of the guys on the floor at Zen that will be making the Ramblers and a ton of new folks as well.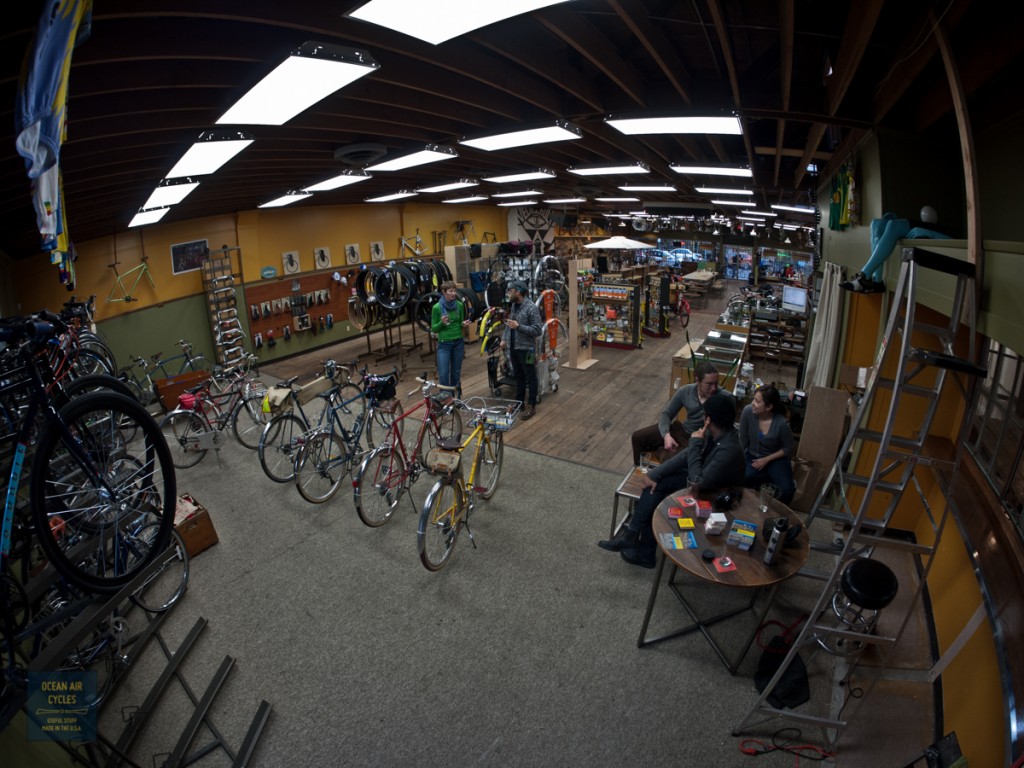 It started slow, and I was able to grab a shot. We were sharing the space that night with a beer event as well as an irish punk band.  Things get busy for us, the camera went away and it was all show time for the next 5 hours.  In theory I was going to be moved into the basement as the night went on.  We were pulling enough people from last minute promotional efforts and the band was cool with us being there, so Sky worked out an alternate plan.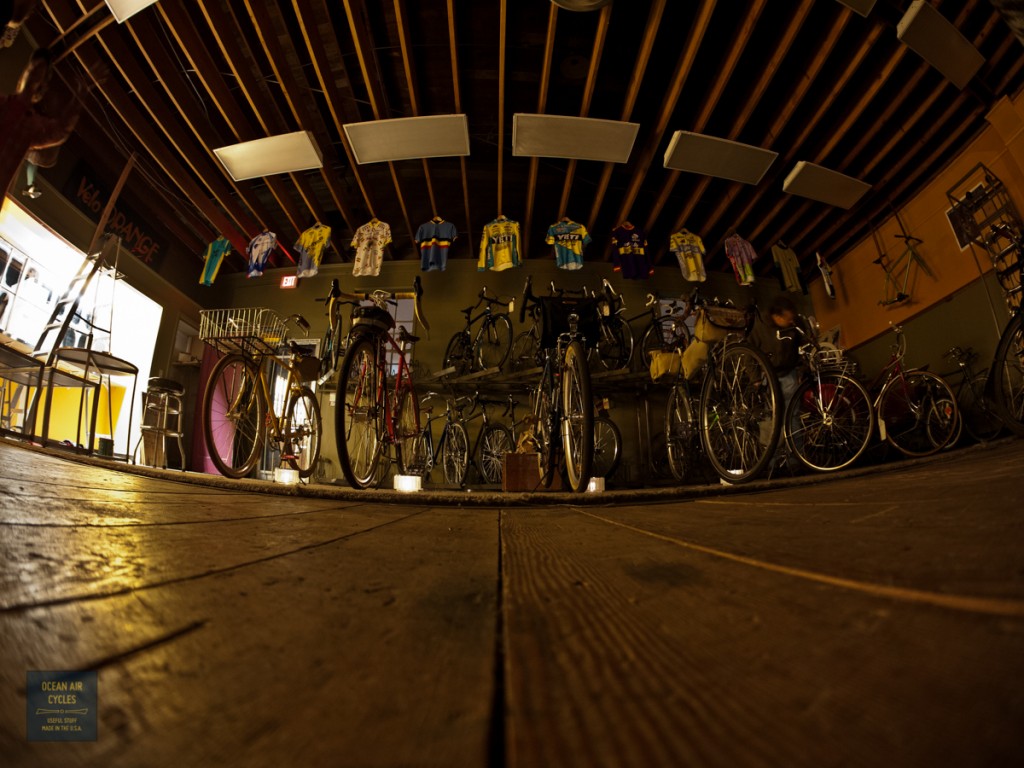 Rambler promotion by candle light and flashlight was on.  I am pretty sure it went well.  I know Sky was stoked with how well the bikes were received and how many people came out to see them.  I will be bringing Ramblers into Portland through Velo Cult.  If you have been thinking about building one up this summer Sky and the rest of the guys over there will be the ones to talk to.  Be sure to drop by soon and let them know, and yes you can sit and have a pint while you are at it.
The days were filled with  meetings and other business stuff.  One whole afternoon was at Zen working out the details for the next run of Ramblers.  What started as a quick meeting turned into a 3 hour tour.  After that was all settled we headed out to explore the town a bit.  With full bellies we headed over to check out the new Snow Peak flagship store.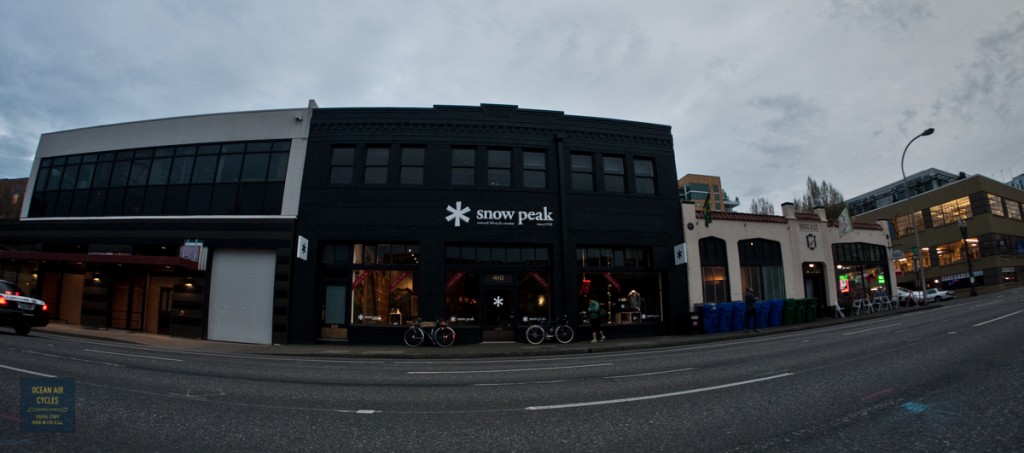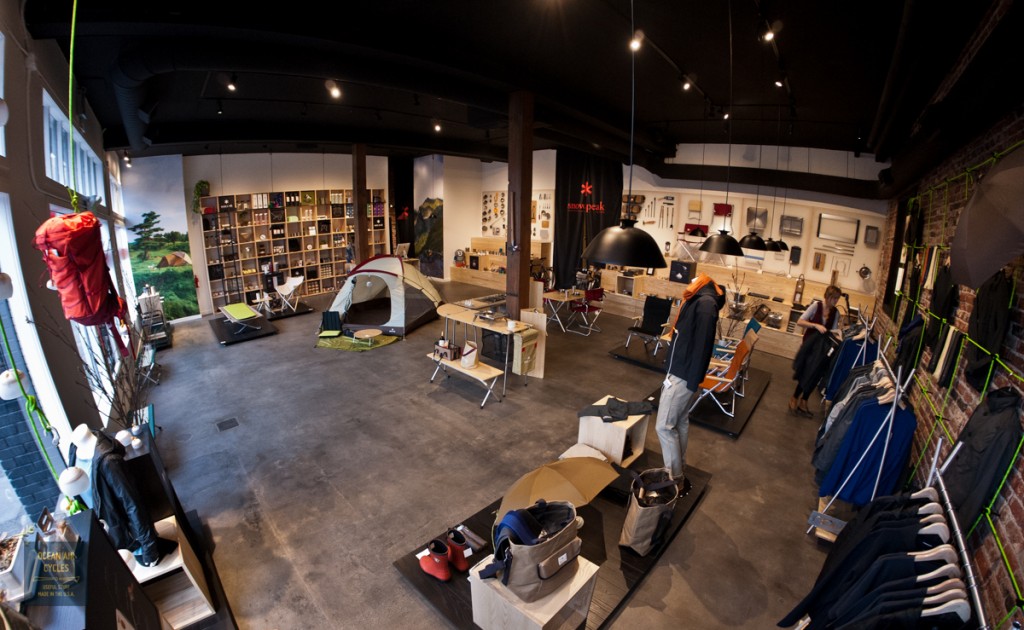 SnowPeak makes and import some really nice camping gear.  Some of it dovetails pretty well into what we are doing here at OAC, and we are hoping to bring in their product and possibly partner on a few things in the future.  If you are in town it is definitely worth a stop.
The last major stop for business in town was closing one of the major gaps in our ability to deliver built up Ramblers to customers.  I can build wheels, but much like my sewing, I am so slow that the family would starve waiting to get a profitable amount done.  Enter Sugar Wheel Works.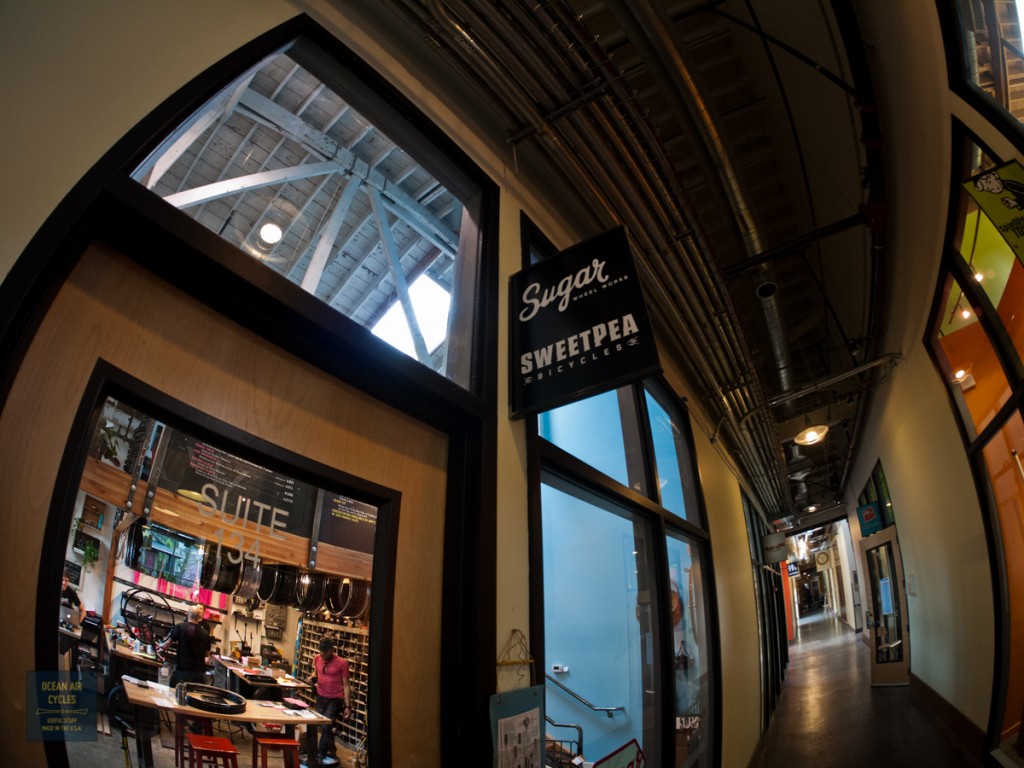 Jude and Jason are awesome.  Jude has set up an efficient wheel building shop, with very high quality hand built wheels.  The real beauty of what she has going on is her ability to show others how to build wheels as well, from community classes to training employees with a model that is scalable.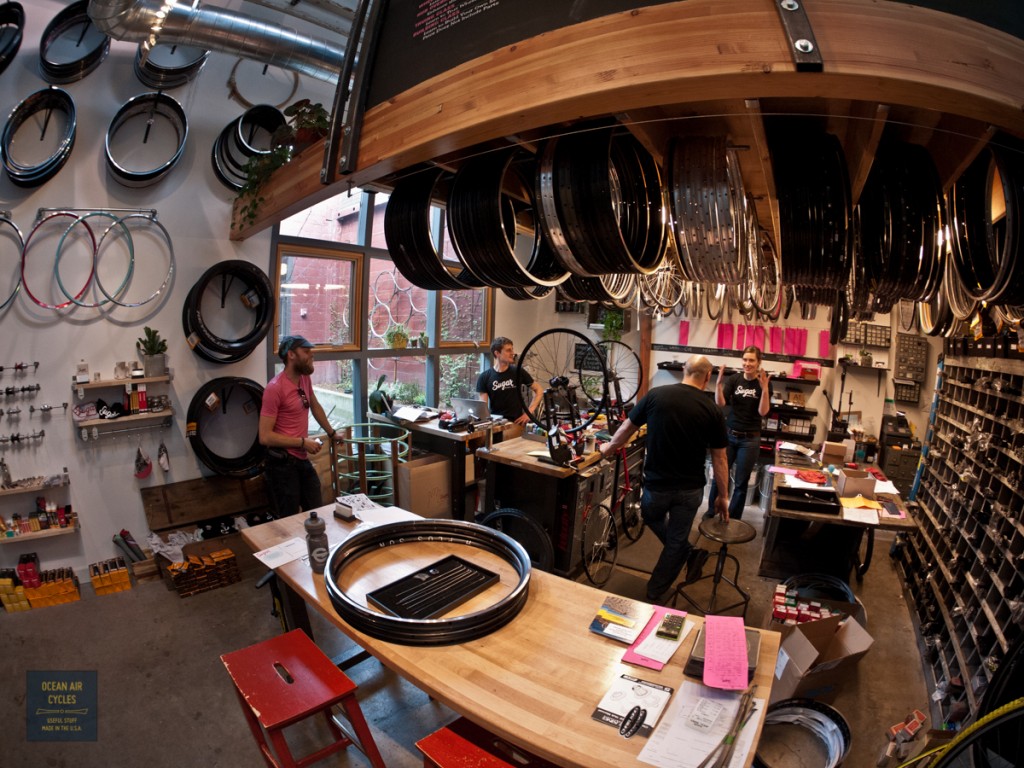 Over the summer we will be adding some stock wheels to our offerings as well as the ability to facilitate custom builds at competitive pricing.  If you are in Portland and looking for wheels you should drop by.  If you are here in the Ventura area and looking for a custom set of wheels drop us a line.  I know exactly how hard it can be to find a good set of hand built touring or commuting wheels and this will be the first step in filling that gap.
The last-minute breakfast on the way out of town was one that I will never forget.  We met up with another early adopter and generally great guy for breakfast at the Grain and Gristle.  It was my one and only wet ride in Portland on this trip.  The food was great, and the company even better.  While I have more than one favorite part about the whole OAC venture, meeting the people who love bikes and really live a life that the Rambler style of bike helps to fill out is just fantastic and rewarding.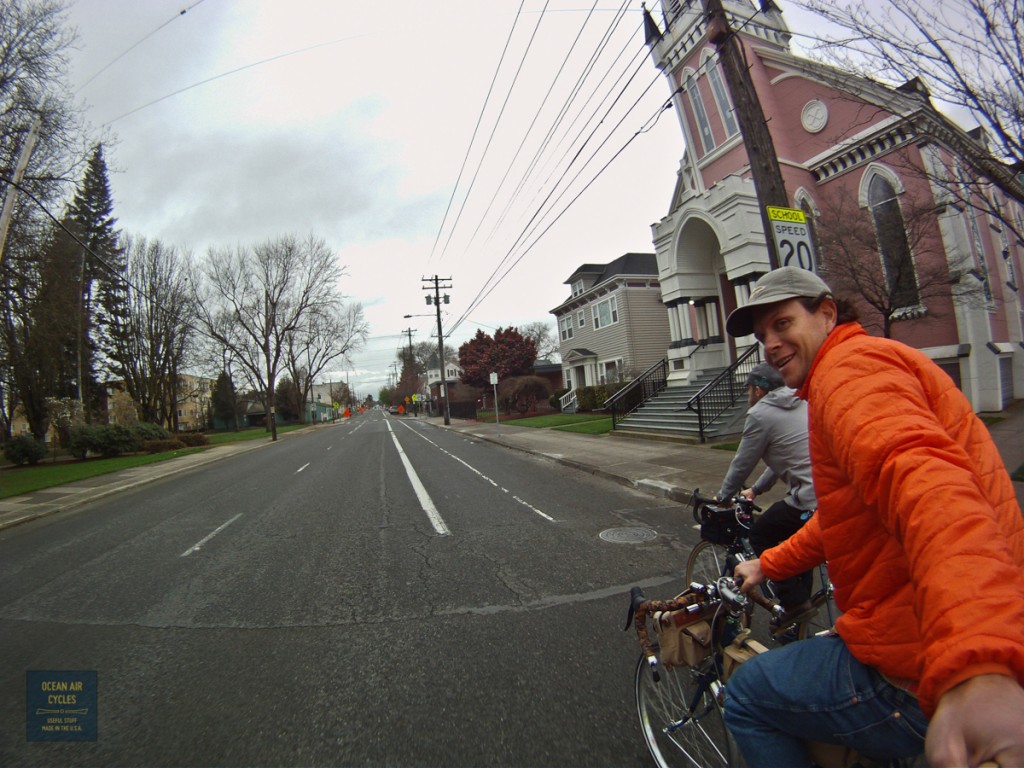 Thank you Portland, I will be back soon!