I have been working with Kirk Pacenti of bikelugs.com fame to get the Paris Brest fork crown made with M5 rack bosses built into the shoulder of the crown during casting.  I Samples are here and I am very excited for these.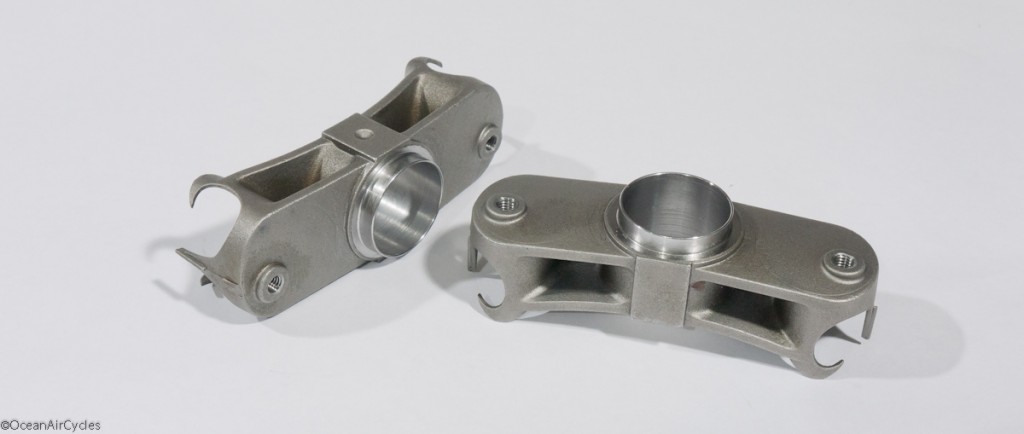 Until now if you were working on a Porteur / Randonneur style of bike you options were limited to bosses that were hand brazed into the top of the fork.  Having the bosses as an integral part of the casting will shave man hours and result in a stronger more consistent product.  These crowns will make this style of front rack mount more approachable for builders and designers.
There are a couple of strong benefits to having crown mounted rack bosses.  Foremost is the added stiffness you will get from a rack with two well spaced upper mounting points as opposed to the more common single point in the center.  Running a close second is having redundancy of upper mounting points, two is better than one.  If a bolt were to come loose or a rack strut fail, the loaded rack is less likely to immediately drop into the rider's front wheel.  I believe this mode of failure is more common than thought if the number CPSC recall notices on production front racks is any indicator.
I hope that by pushing this fork to market we will see an increase in the number of well designed front loading bikes and front racks on the market in the coming years.  The crown specs are the same to the existing Paris Brest in every way other than the added rack bosses.  Spacing between holes is 80mm.  If we as designers and builders were to adopt this as a standard it will help with the proliferation of the niche. bringing a level of consistency across brands.
After talking with Kirk today, these crowns will be available through Bikelugs.com  in 6-8 weeks.