As part of the program here at Ocean Air Cycles I have been working on sourcing components and materials for complete builds.  Often times the materials or parts we are used to as cyclists end up being tied up by distributors who have exclusive import deals and will not work with us as a bicycle producer or based the fact that we do not have a physical retail presence.  As an aside we may never have a "retail" presence that certain suppliers define as a retail bike shop, and thus we have been developing alternate sources or products that may be familiar in the Rando or touring bike market, i.e. berthoud, Schmidt, and B&M are just a few.
The entire supply chain for high end dynamo powered lighting systems in the USA ends up being funneled through Peter White.  I am sure he is a great guy, I bought a fine set of wheels from him years ago, and those of you who have worked with him have your own opinions I am sure.  Aside from all of the great information on lighting and wheel building, he is also the importer and distributor.  Without the ability to get things wholesale, I started the search for alternates to many of the products offered.  Some are much harder to get than others.  We are still looking for a reliable source on the metric electrical connectors out favorite lights and hubs use.  I was able to source lights from Europe earlier in the year but that is getting harder.
When setting up the Lighting systems on the bikes, there is quite often a need for longer or better wire to make the long run to the tail light.  After a long search and testing a few different options out we have been having good luck with a coaxial microphone cable.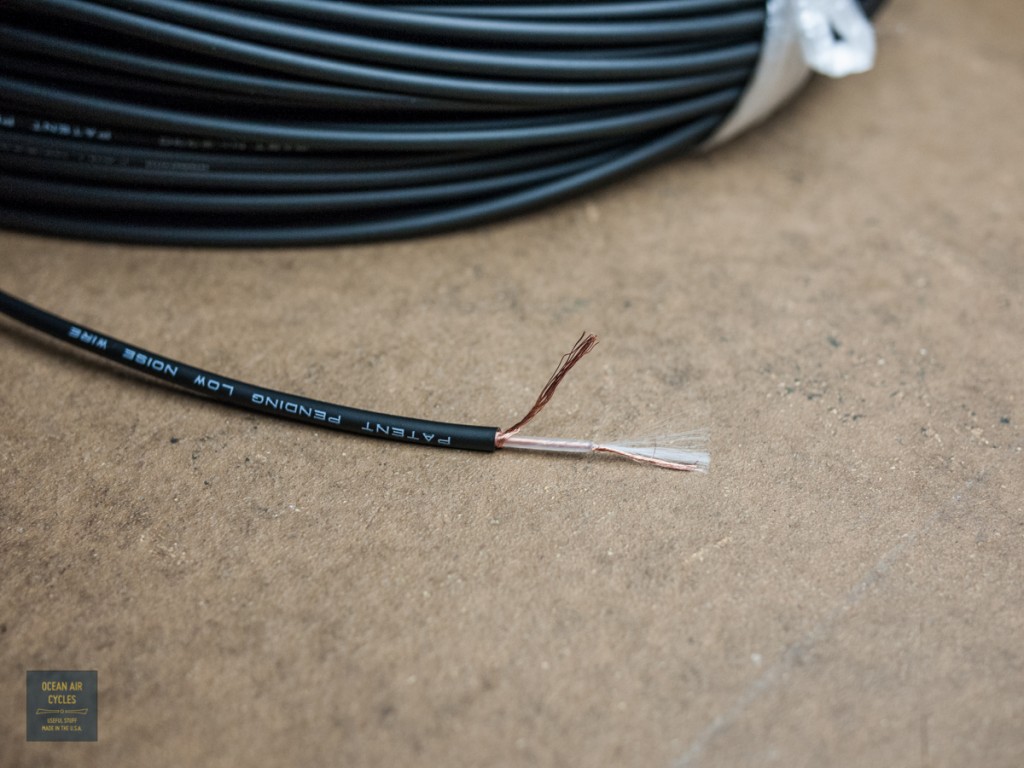 Setting up the ends is a bit more work with careful trimming, stripping and shrink wrapping.  In my opinion the results are worth it.  The cable itself is easier to run, the flexibility helps in fishing it through the frame.  The outer diameter is 3mm and fits perfectly though the guide eyelets on out Rambler forks.  The resilient outer casing will help reduce the chance of nick or breaks and possible short circuits.
The best part of the source?  Pricing is well under Schmidt branded wire coming from Europe.  In the next couple of weeks we will add shrink wrap kits to our offerings.
Special Offer:  For the first 25 customers we are selling the wire in a 9 foot length (enough to do most bikes front and rear) for $0.25 plus shipping.  I am limiting this to one per customer, and once all 25 are gone pricing will go to $0.32 a foot