As part of the OAC Rambler program I have been installing a bunch of components and accessories to make sure they fit.  The good news is that just about everything has fit as planned.  Some things go on easier than others, and often stay on the bike longer.
The White Industries VBC double crank set is one of those shining stars.  The crank set is machined here in California, completely, arms, rings and bottom bracket.  The most unique feature being the proprietary outer ring.  It mates directly to the crank arm, and has 5 radial slots in lieu of the traditional bolt circle pattern.  The in turn removes many of the tooth count constraints imposed by bolt circle diameters.  I have ours set up as a wide range double, 48 tooth outer ring and 28 tooth inner.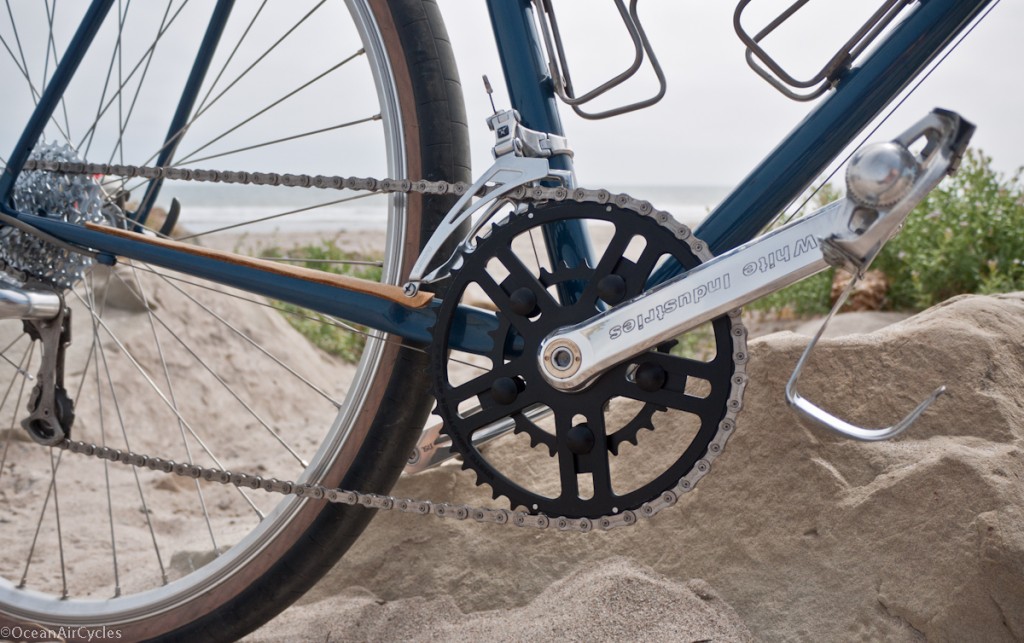 95% of my riding is on the larger ring, and I only shift down to the inner ring when the road starts to point up sharply. The biggest gain is simplified shifting, fringe benefit is dropping a little weight compared to a triple ring set up
I have pushed various vintage cranks into similar chain ring combinations, some intended, some with a bit of creativity.  I appreciate that the WI crank set is purpose built to this design.  Everything goes together perfectly, as it should.  One thing that is hard to explain is the feel of some components going together.  This "feeling" can only come from installing and removing lots of components, at a wide range of price points.  The bottom bracket and crank set went on silky smooth.  Everything threaded on easily, comes up to torque spec easily and has stayed there for months.  This can not be said for some of the more affordable offerings on the market.  While the price is a bit steeper than some, these are a solid example of getting what you paid for, and will likely outlive the bike you first put them on.
Performance on the road has been great.  Shifting has been smooth, and after some fine tuning of the front derailer there have been no dropped chains.  If you are thinking of going this route, I would recommend the FSA compact double front derailer.  It works well with compact or wide doubles  due to the flat outer cage and being radiused to a 48 tooth ring.  Other derailers will work, but set up may be a bit finicky.
I will be adding these to the web store as a special order item in the next week.  Keep your eyes peeled if you have been thinking about migrating from a triple to this set up.  The initial offering will be at a price that is hard to beat, particularly when combined with the coupon code for news letter subscribers.