I can not belive I waited this long to make one of these. It has exceeded my expectations and taught me what I would do to make some minor tweaks for a final product.
Bag Specifications: Frame bag with No.8 Canvas duck side panels, Jr Ballistic perimeter strip for abrasion resistance, multi point reinforced hook and loop connections, waterproof zipper with double pull and storm flap.  Port for rear tail light battery wire.
Dimensions: 22″ long x 6″ high x 2″ wide (56cm x 15cm x 5cm)
Volume: 264 in³ (4.333 L)
The inspiration for this bag came from a synergy of the designs used on Swiss Army bikes, the designs coming out of the ultralight bikepacking work, and the traditional designs of the french touring bags.  While the volume is not particularly large, the design and placement make use of the previously empty space to carry things that might not fit as easily in traditional bags, e.g. hydration bladders, tripod or tent poles. 
On this weekend's mixed terrain ride I carried a 2L Platypus water bag, Gorillapod mini tripod for the camera, wind breaker, knee warmers and a spare hat with room left over in the bag.  The centralization of the load had little detrimental affect on handling.  Both steep climbs and descents were not different from when riding with similar loads in larger bags at the front and rear, if any thing this was an improvement.  The largest gain was in the increased capacity and ability to better arrange gear for access during the ride.  The multiple attachment points kept the bag stable with no sway of the bag.  The bulk of the load is supported by the canvas reinforced 2″ hook and loop closure at the top tube: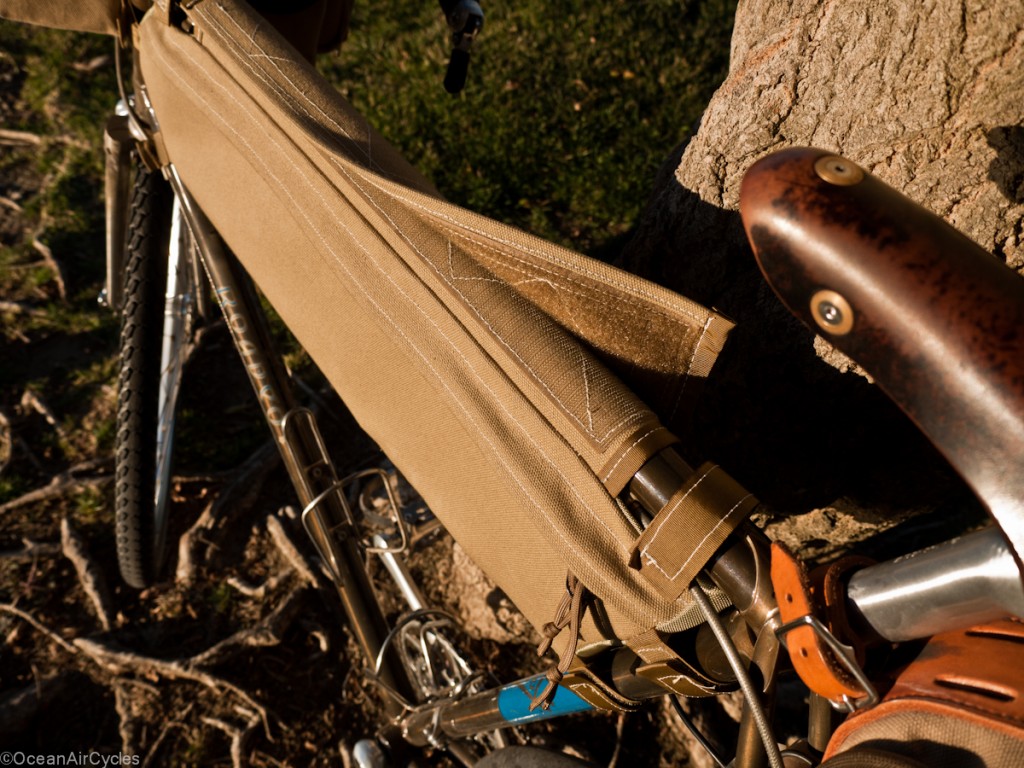 The overall carrying capacity has even shocked me, as the water bag measured out at 7″ wide and 3″ thick when full, but was easily swallowed and zipped into the bag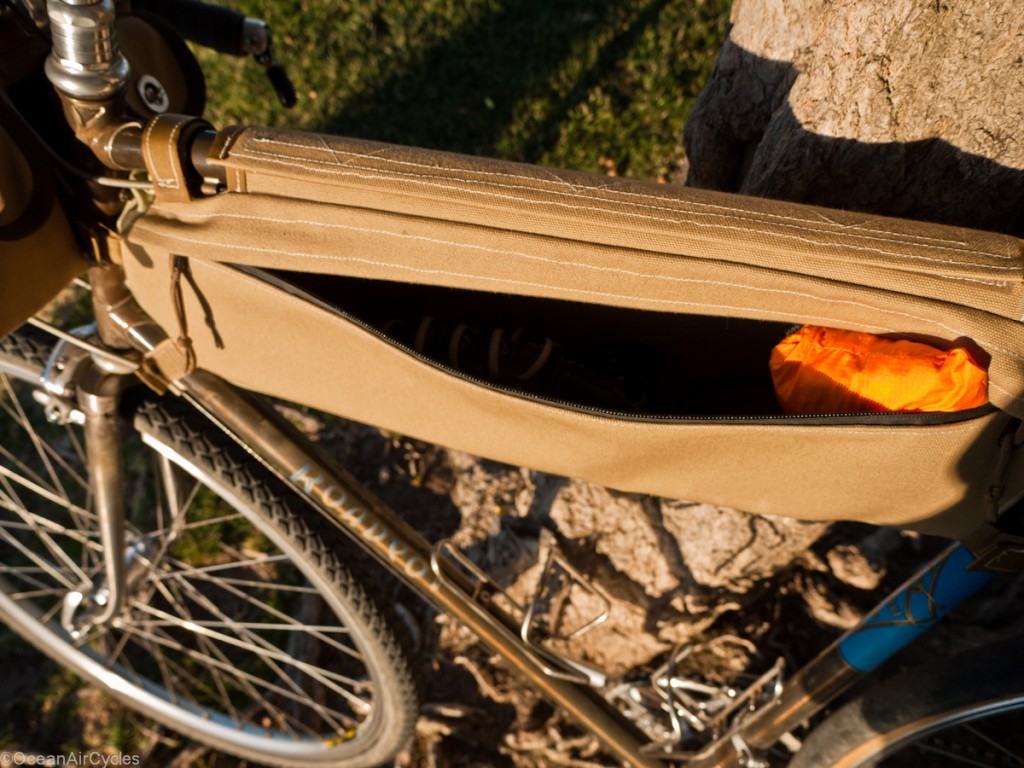 Detail of the wiring port for my tail light battery pack.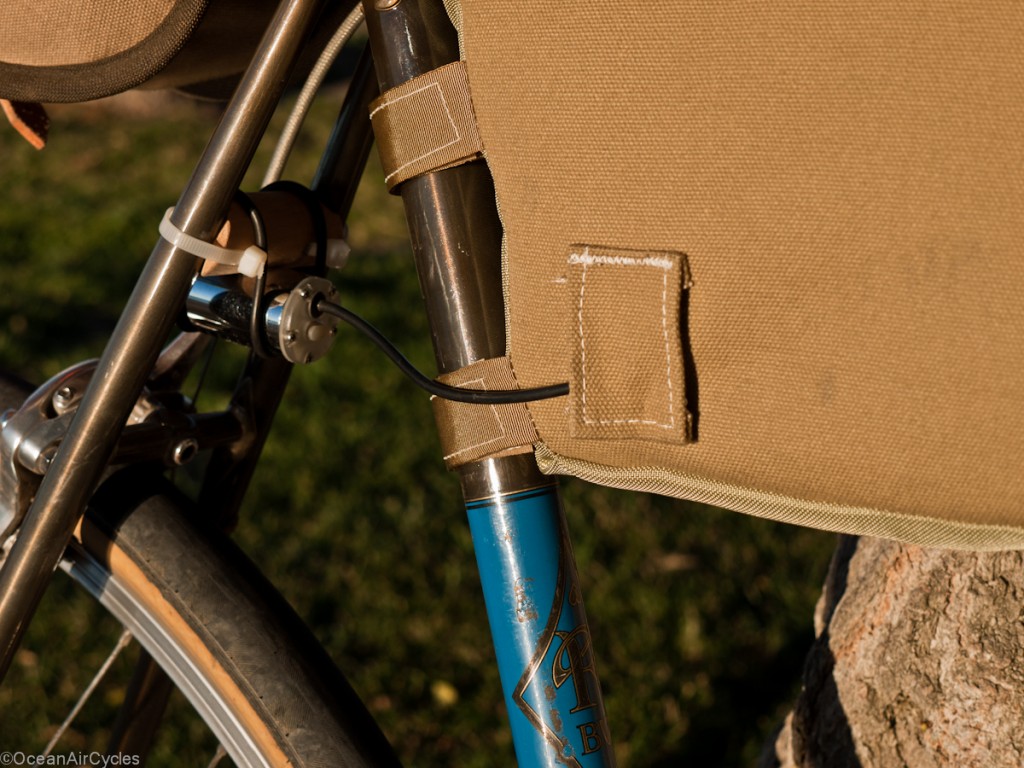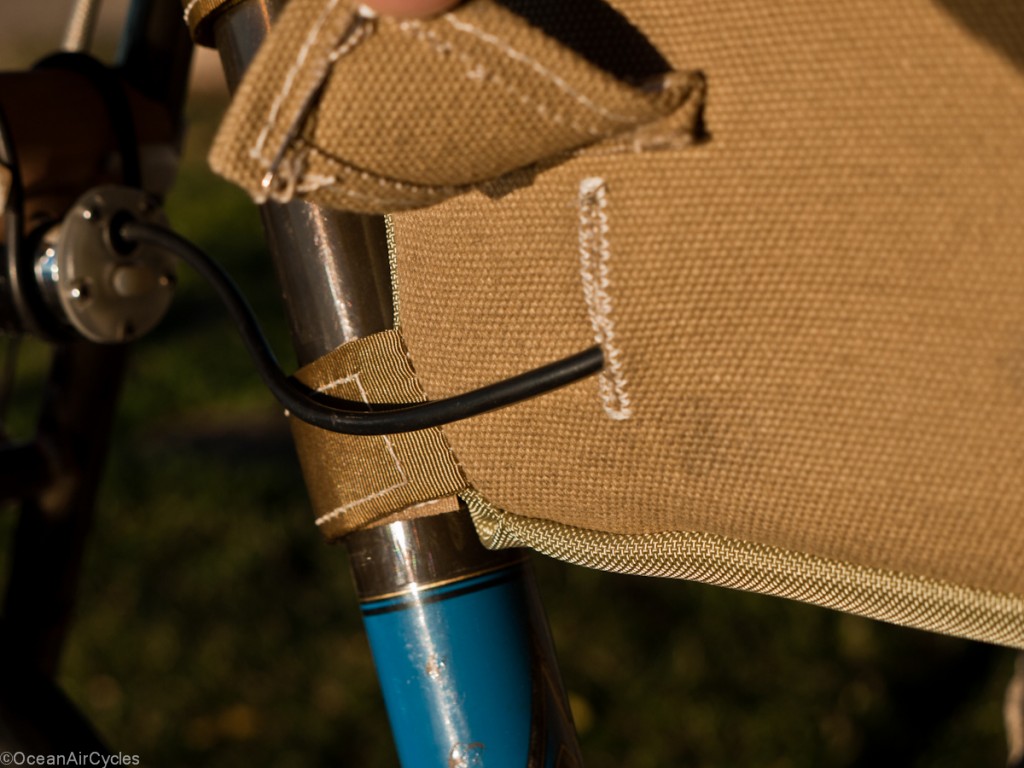 Details like this can be customized to suit different lighting arrangements, ports for hydration hoses, etc.  Likewise location and number of zippers or internal pockets and dividers could also be added.
I see these bags filling a niche for the self supported distance road rider, light weight touring, and transportational cyclists looking for that extra bit of space without having to resort to resort to full rack and panniers. 
It is my intent to offer frame bags of a similar design for sale by custom order in the near future.  If interested please contact me through the Contact page with the "Custom Frame Bag" in the subject line.