I have been having a ton of fun getting out in the mornings to take a little extra time, boil up my water outside and brew up a cup of coffee.  I hope that it is inspiring a few of you to do the same.  For me it has been mostly for fun, and partially to rack up some quick hours on some sample stoves.

I have been working with Trail Designs to take some of their basic stove kits and tweak them a bit for cyclotouring.   Cylotouring subjects the packed stove to more vibration, jostling and potential crushing abuse than an average hiking trip.
I first heard of Trail Designs a few years back while doing some research on the backpackinglight forums.  As an aside, there is a ton of good information over there on ways to lighten your load while maintaining the comforts you want to bring with you on outdoor adventures.  It seems that the alcohol, in many versions, stove the most popular choice, and the king of ready-made systems is the Caldera Cone.  These are often custom-made to fit a specific pot or mug, there are a couple of form factor variations as well as aluminum or titanium versions.  For the sake of keeping things simple and cost reasonable I started with their Sidewinder System and Caldera Keg.  Both of these are complete kits that include the pot, cone, stove, and everything short of fuel and water that you will need to get started boiling water outside.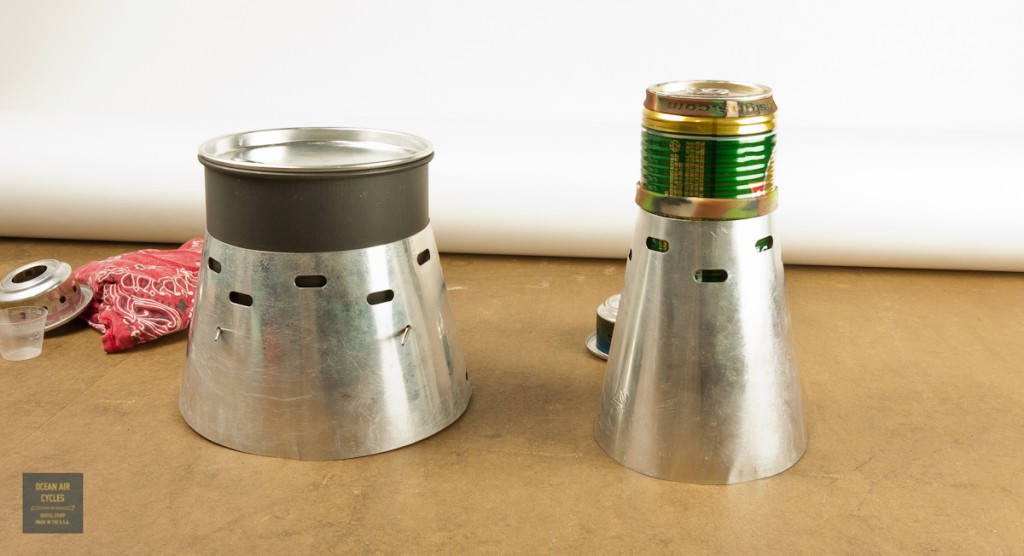 The Caldera Cone system is unique in a couple of ways.  The pot stand and wind screen are one in the same.  The shape of the cone and location of vent holes focuses the heat, with little waste on the bottom of the pot, contains some heat around the sides, and maximizes efficient burn of the fuel.  Efficiency of the burn is huge, resulting in less fuel needed to boil more water, and less fuel that you need to carry.  The whole cone / pot assembly sits over the included 12-10 stove.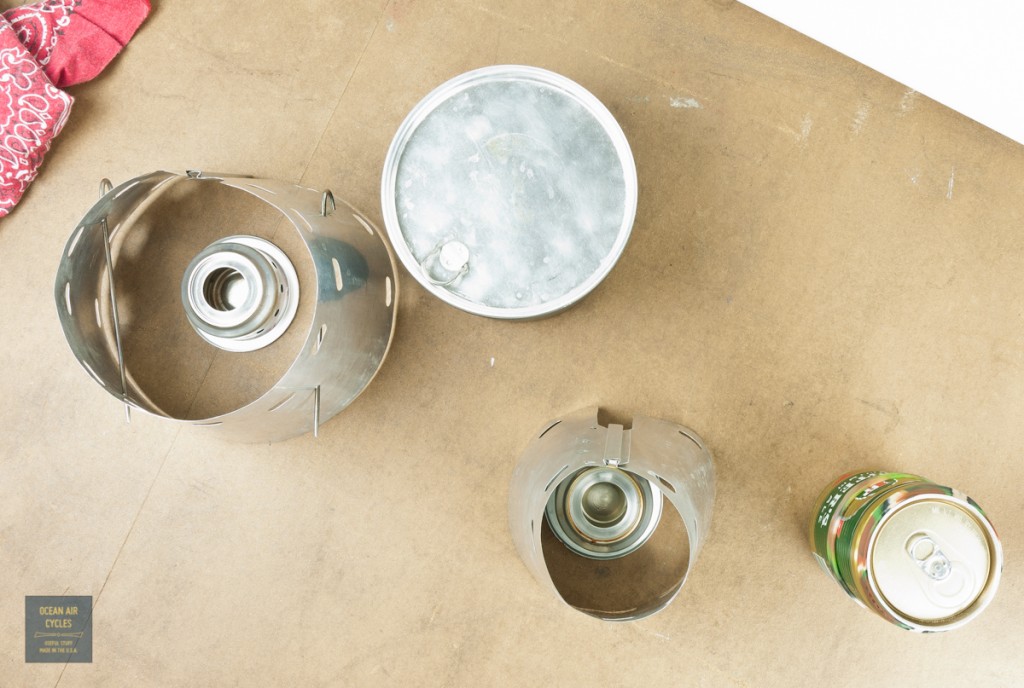 All caldera systems are optimized to work with the 12/10 alcohol stove system.  This is an open non pressurized design made from upcycled cans, and a custom integrated priming pan for cold weather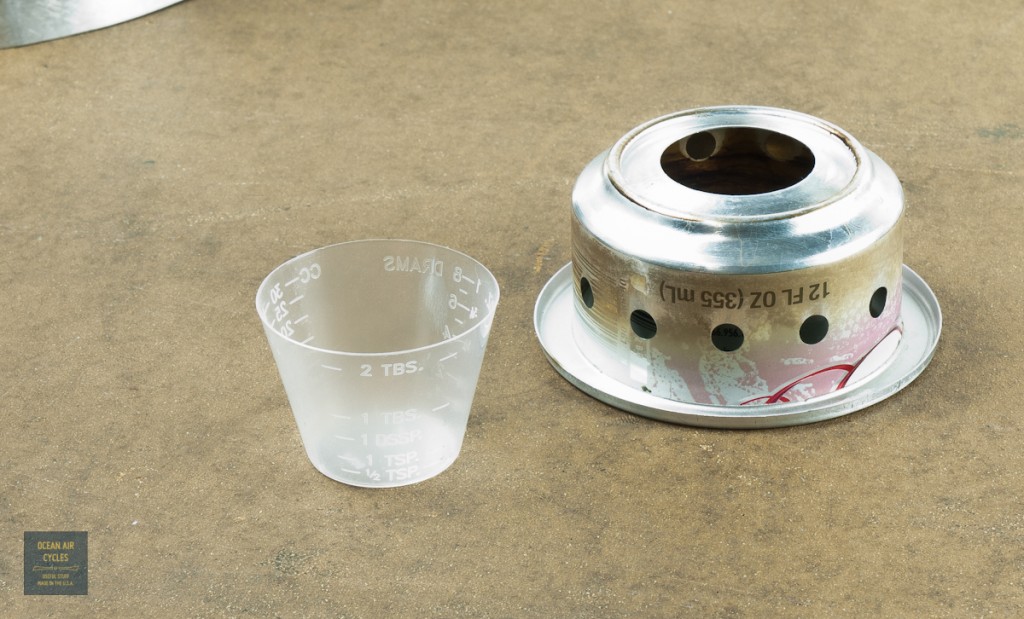 Both systems will bring 24oz of water to boil in a few minutes with about 1.25oz of fuel.  The major difference between kits is the volume of the pots, the resulting form factor and weight.
The Keg System is designed around a upcycled Fosters beer can, maxes out with a volume of 24oz of water.  The pot has a bulge formed near its center to add strength and a resting point against the top edge of the cone.  The Pot, lid and cone weigh a flyweight 84g with the silicone gripper bands in place.  The stove is not fragile, but takes some care, and includes a plastic caddy for packing protection.
The Sidewinder kit is designed around a Made in In the USA Open Country 2qt Aluminum pot.    This is a much higher volume cook set with a 64oz capacity.  This comes at the price of weight, 340g for pot lid and cone.  While the jump in weight from the keg system seems large, this system is still 220g lighter than the 50oz JetBoil group system.  The upside of the weight gain is self-containment of the whole system when packed, and the ability to boil larger volumes of water in one go, e.g. enough for coffee and oatmeal.
The larger pot has room to spare for my coffee filter cone and some small portions of food if needed as well.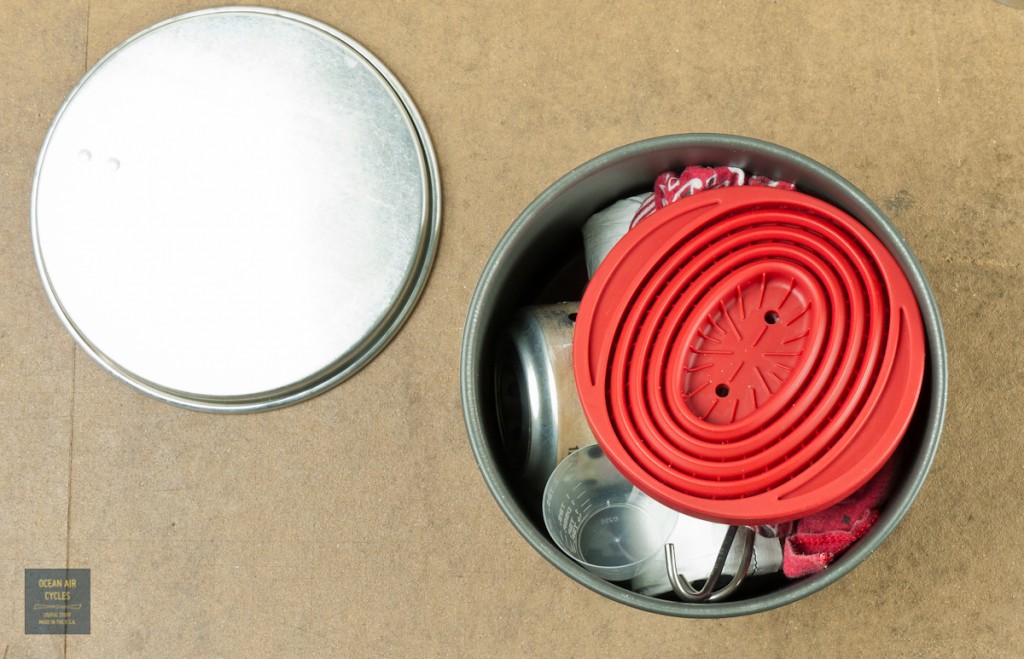 Both of the systems pack up into completely self-contained units.  Both are equally portable and significantly lighter than the stove systems you will find at your local outdoor store.  Here is the packed up shot with an older 1L Sigg bottle to give you an idea of scale.
The primary fuel for these stoves is denatured alcohol.  It is easily found at most hardware or paint stores.  You can also use 190 proof grain alcohol if you are so inclined, and the fuel could also be consumed (as in a drink) in a pinch.  The denatured variety is no good for your insides, but great for other things like mixing up shellac or cleaning up grease on your bike.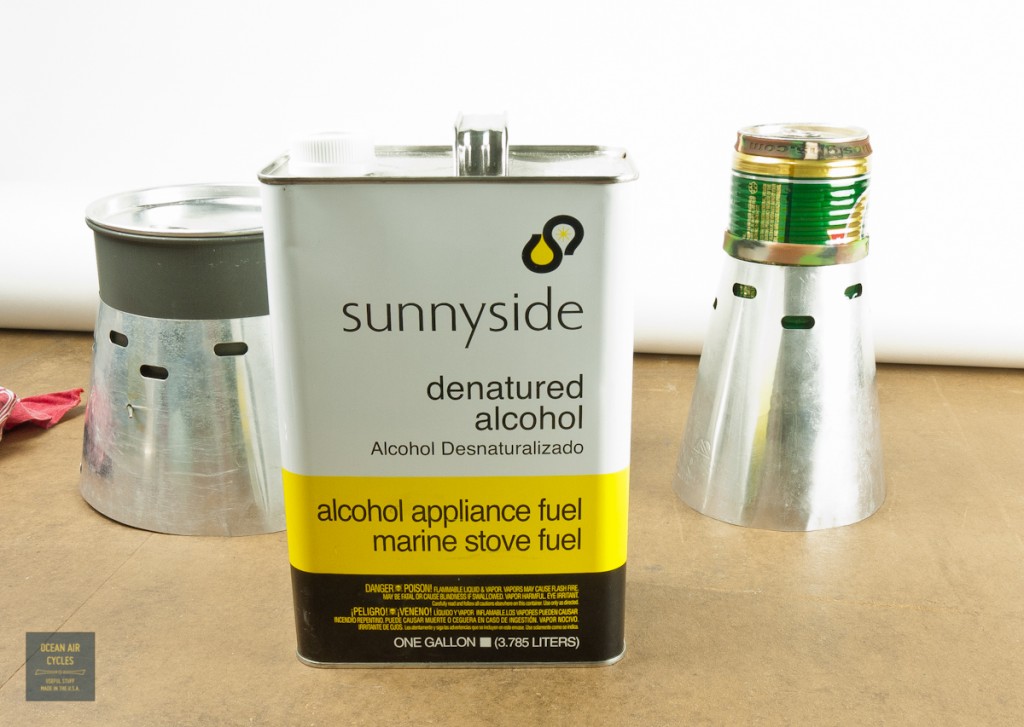 The kits include an 8oz fuel bottle for managing  smaller portions of fuel.  The 8oz oz of fuel has been getting me through 6 or so 22oz boils for my coffee and should be more than enough for a weekend or overnight trip.  The bottle seals with an o-ring and  is slightly squeezy for easy portioning into the measuring cup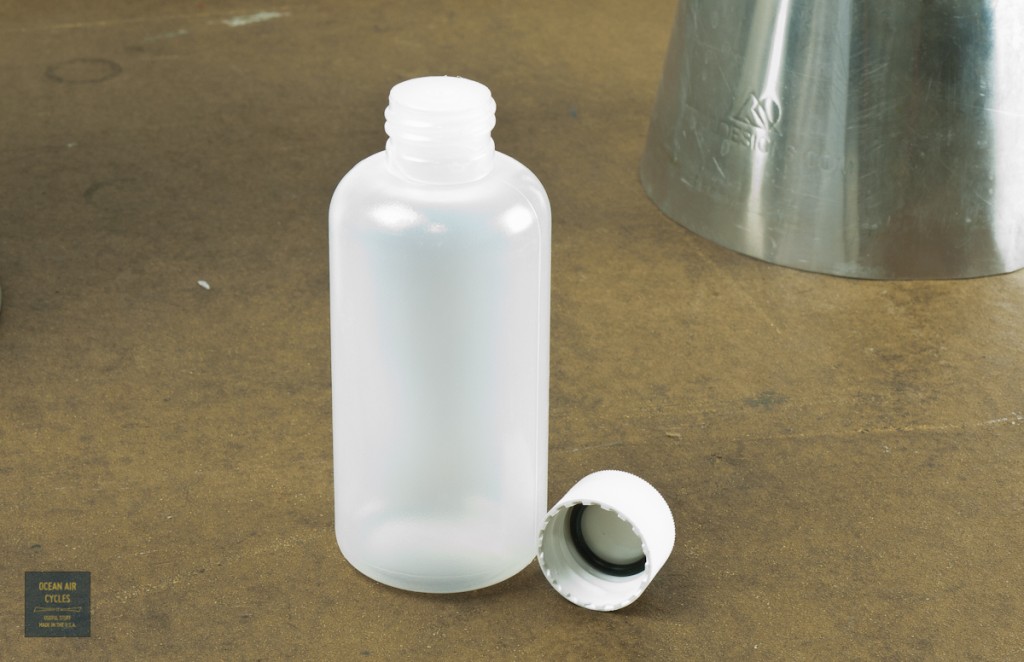 If you are going on a trip that might take that little extra bit of fuel you can buy the Gram Cracker  stove that holds Esbit tabs.  The stove itself weighs in at 7g, and will optimize the burn of the esbit tab.  There are slide in wings that will hold one or two tabs in place,  and slightly slow the burn rate for getting the most heat out of each tablet.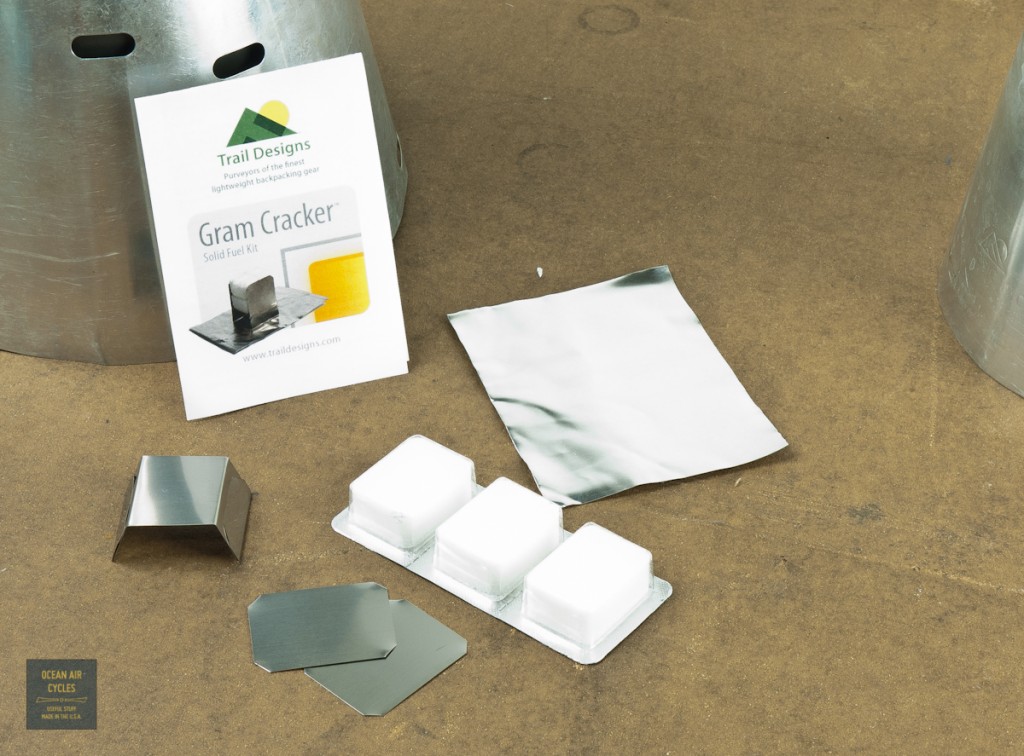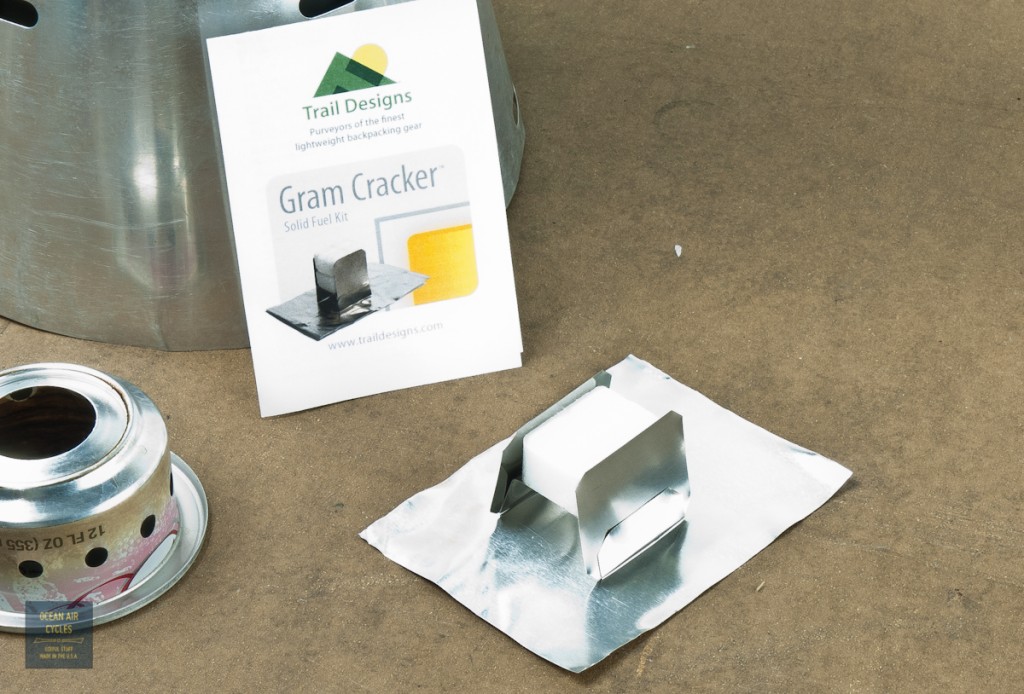 Having used a bunch of different stoves and fuel systems over the years of camping, I am completely sold on the Caldera Cone system.  They are incredibly light and efficient.  The stove itself is silent and burns fuel from a renewable source.  Fuel can be bought in bulk, cheaply and there is not as many single use throw away containers as with propane systems.  Many of the parts in the system come from upcycled waste products, beer and soda cans.  The cones and kits are put together by guys doing what they love in the Sierras.
So what would I change with both or either of these kits to make them better?  First thing is add a bandana to each one.  It has turned out that is all it took to stop the rattling  and keep all the components secure in the kits.  For the sake of getting started that is how I will be adding these to the storefront.  The basic kits plus bandana.  If I had to pick just one it would be the larger pot, I like a big cup of coffee, and tend to eat big.  If you are used to average sized solo camp cook sets the Keg is a great super light choice, and fits a little better into most bike bags.
In the long run I would like to work on a single kit that splits the difference in volume and weight.  I find the Keg system is good for a single portion at a time, and the pot is bigger than I need for most things.  Both work just fine, so good that it may be a while until I have the time to throw at making a dream kit.  The guys at Trail Designs can put together a huge variety of custom kits if the Goldilocks syndrome is unrelenting.  They also have a titanium version that opens up the option of burning wood for fuel.  The Ti is a great system as well, but does come with some tradeoffs, that will take another post though.
When we were working on this project it became apparent that sourcing pots consistently is the biggest hurdle, and the pot is the backbone of the system.  Until I have the pot portion sorted out there will be the two basic kits.  Keep an Eye on the store front, they will be going up in the next couple of days.
The stove systems are up now