This morning there was only a bit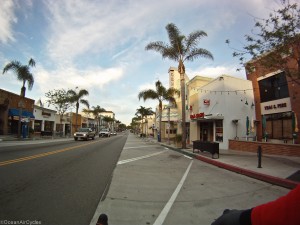 time for a quick toodle around down town and to close the loop along the beach for a quick surf check.  After yesterday's comment about living in a smaller town I thought about expanding a bit.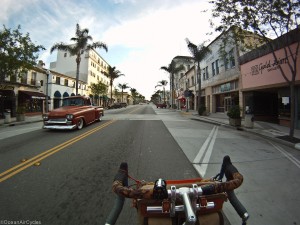 Work brought me to the Ventura area four years ago.  When it was time to find an apartment, a garage for the tools and gear, and close to town and the beach were the key criteria in the search.  We ended up in a town house two blocks from My wife's work, a few blocks from down town and the beach.  We are able to walk down town for dinner and shopping, there are at least four local bike shops within two miles of the house, the ocean is blocks away.  Most of our produce comes from the weekend farmer's markets either up the street on Saturday or I use the Sunday market ten miles away as an excuse to put in some extra saddle time.  Things like Costco or the nicer food markets are a bit further, but still very accessible by bike when you need to stock up on supplies.  In the last few years my work was as close as a three mile pedal to the job site, and at worst 65 miles in the car down to Los Angeles. 
The only downside, well I am having a hard time coming up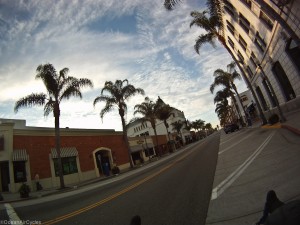 with a downside.  I did not even ge to expand on the mountains to the north expanding into the Los Padres National Forest, or the fact that if we did want to venture into LA it is only an hour or so away.  This is not meant to be a sales pitch for Ventura.  Think about what you do to live and work and how to structure your life so that you can do the things you want.  For me that is getting out of the car, onto the bike, into the water and having maximum time to spend with my wife and daughter.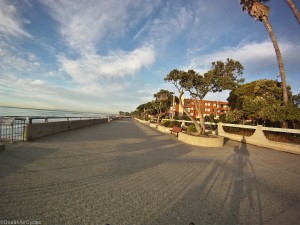 Every time I take work that puts me behind the windshield for hours on end I regret it, I am trying real hard this time to not lat that happen again.  It is possible to have things come together so that you can do it your way, though you have to do it and not wait for it to just show up.
If you find you current situation less ideal than you would hope, particularly from a transformational cycling situation, just get out and make the best of what you have.  Things are probably better than you think.  In my four years here in town I have discovered and been able to share more than many people who have lived here for decades.  The key is getting started, get outside, commit to using your legs to get around town.  When that gets boring, commit to not going the same way twice  to get to the same places for a whole week or more.  Most of all recapture your time and have fun.